The Omega Natural mattress can be used as a permanent mattress on any wooden slatted bed frame or is used on our clarin sofabed / fuji sofabed or rollo single sofabed.
The Omega Mattress is a further development of the traditional japanese cotton mattress. We have combined the qualities of this classic natural mattress with modern techniques and material to create healthy and comfortable mattresses for your wellbeing.
The Omega Mattress is the best seller among our cotton mattresses, whcih is our premium quality natrual mattress, which is manufactured in Denmark by ( innovation Living ).
The Omega Mattress is a comfortable firm mattress with three layers of carted cotton of each side of a 5cm freon-free polyether foam core. Cotton is a natural breathable material that helps the body to adjust its temperature, which is important for a good sleep.
A Good mattress needs to be kept in shape; to assure you good comfort for many years, the mattress should be flipped over so that the head end turns to foot and it shold be aired and beaten regularly ( when ever you change bed clothes ) to prevent the cotton from compressing.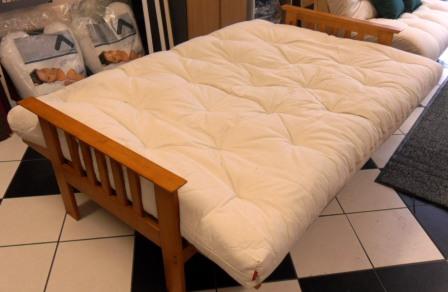 Omega Natural Mattress with a fixed cover - 100% natural brushed cotton
Your futon is a mattress therefore the outer cover cannot be removed. We can supply loose washable covers in a variety of cotton drill colours, which can be obtained separately when ordering.
Size Available :
2ft6 ( 80x200) OMEGA MATTRESS €235 (washable cover €50 extra if required)
3FT (90X200) OMEGA MATTRESS €265 (washable cover €50 extra if required)
4FT (120X200) OMEGA MATTRESS €350 (washable cover €70 extra if required)
4FT6 (140X200) OMEGA MATTRESS €360 (washable cover €70 extra if required)
5FT (160X200) OMEGA MATTRESS €420 (washable cover €90 extra if required)
COURIER NATIOWIDE DELIVERY STARTS FROM €10 FOR 2FT6 AND 3FT
€20 FOR 4FT,4FT6,5FT BECAUSE OF EXTRA WEIGHT ( VERY BULKY DELIVERY )
GIVE US A CALL ON 091-762334 FOR FURTHER QUESTIONS.
INFO@CELTICFUTONSTORE.IE